I'm giving away 10 copies of my book Mayhem in Melbourne… read further to find out how you can score one.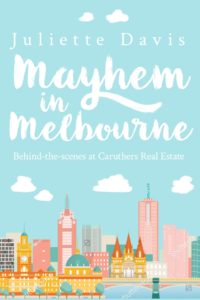 At the moment, locked up as we are, I'm reading book after book.  It is so relaxing.  It takes me from this fraught and stressed existence to another world.  I have just finished reading a Donna Leon Mystery, The Girl of His Dreams. It has taken me to Venice and the world of Commissario Guido Brunetti.  It is giving me an interest in today's Venice without the crowds of tourist he is describes as he walks around the city following clues and people.
Donna Leon has written 29 books featuring her favourite sleuth. You can find a list of them here.  Although there is no real sequence except that  his children get older. If you want a touch of the Italian lifestyle, their food, and the romance of Venice start anywhere and see if you get hooked.
There's no physical travel these day so how about armchair travel – TAKE YOURSELF TO MELBOURNE with 'Mayhem in Melbourne – Behind the Scenes in Caruthers Real Estate'.  My funny, heart-warming book does what it says, looking behind the scenes and exposing the  goings-on and some real human stories from the world of Real Estate.
All this was before the COVID-19. Will life in a property management department be the same when everyone gets back to the office and tackles the morning emails from their ergonomically designed office chair rather than their dining table.
You can take a journey to Melbourne with 'Mayhem in Melbourne- Behind the scenes at Caruthers Real Estate'.
I am giving away a free copy to the first 10 people who contact me.  To grab one you need to email me your postal address.  The wonderful Australia Post is still operating so no trouble getting the book to you.
Email –  Davisjuliettej@gmail.com  with your mailing address.  I will mail my book to you anywhere in the world. You don't have to be in Australia. Where ever you are I would like to take you to Melbourne for a few hours.  Arm chair travel is a great way to see the world.
In the meantime I plan to read more – perhaps another Donna Leon. It's a great way to traipse around Venice while learning some of its history.
These flowers are brightening my world.
I call them Winter Marigolds. I don't know the correct name.   They bloom in the winter.  They are self-sown and have been in my garden for the last couple of years.  To my great delight they seed down and this year I have a couple of strong healthy plants that are just starting to bloom. Do you know anything about the plant? I would love some more information.