I hope you enjoyed part 1.  Ralph was one of the people who made being a property manager a joy.
Ralph has vacated and Lauren came with me to do the final bond inspection. There's been a shuffle around in the office and she's going to manage the property now. I'm glad. I want to remember it as Ralph's home.
We walked into a dull box-like space with yellowing, off-white walls and an exhausted carpet. The curtains have gone and the Venetians are pulled up to give a view of the driveway from the lounge. The passing traffic is now on view from the bedrooms. The kitchen and bathroom are dark.  The place is dreary, almost as if it's exhausted.
Wyatt, our favourite cleaner has been, so there's the smell of cleaning products. The magic's gone and I wished Lauren had seen it when Ralph lived there.
The landlord, who has a position in a church is known as The Rev in the office.  He insisted we arrange inspections before Ralph moved out. I was dubious. What tenant or anyone for that matter could look at Ralph's exotic and sophisticated world and picture the shell that would be left after that world was packed up and transported 'Further East'.
Ralph insisted he was present. He lit a couple of candles and played his jazz softly during the opens.
When the tenants walked in their mouths fell open.
'WOW!  This is great.' There was a bucket load of 'Wows'.
To bring them back to earth I'd say, 'Try to think what it would be like without the furniture and the rugs. Imagine it with your furniture'. I'm not sure anyone heard me or if they did, saw their furniture and not Ralph's.
One thing that was admired greatly was the picture of the city view. I was waiting for Ralph to say he bought it at IKEA. He said little during the inspections except to confirm he was taking everything with him.
After the first WOW I could see that no one liked the curtains, much.  Ralph's taste isn't everyone's taste. Ralph confirmed he was taking all the furnishings.
I wondered how the curtains would fit into his new place. He had insisted several times that I should visit. I was looking forward to it. I was eager to check out what ambience he thought was appropriate for 'Further East'. More sky? More light? More sun? I wnted our friendship to continue.
When he handed in the keys he gave me a stylish leather document case with a very discrete company logo on one corner – very in keeping with his taste.
The unit Lauren and I stood in now was bleak and shabby. I wanted Ralph back to laugh and joke.
There were some dark shadows against the ceiling in the corners of the lounge and the main bedroom. Wyatt had told Lauren this was mould.  He said he tried to wash it off with something like a window washer. He'd forgotten his ladder! This was not one of his finer moments.  How did he expect to clean the bathroom fan and the light fittings without a ladder? It was hard to know what effect a window washer would have on mould. None was my guess.
Lauren took photos but it's difficult to take photos of a dark shadow. The wall doesn't co-operate, or try to adjust its angle so it is easy to capture. Empty units don't have things to stand on, and short of hoisting each other up we didn't have much luck recording these dark marks to look like mould. It was just a dark shadow from where we stood on the dreary carpet. Lauren took Wyatt's word that it was mould.
We headed back to the office. After a couple of minutes in the car Lauren gets a call from The Rev. She mentions Wyatt thought there was mould. Mould is a word I mention as little as possible. I think Lauren has made a mistake bringing it up. I don't say so but I wondered what The Rev's take on it will be. He decided to pick up the keys and look for himself. This is a bad sign.
Once The Rev heard 'mould' he ran with it. He knew the dark shadows  were mould the moment he saw them. He asked Lauren to get a quote to have rooms painted and to take the cost from Ralph's bond.  He believed that as Ralph had lived there he was responsible for the mould and the other marks he noticed.
Things began to deteriorate. Lauren arranged for the painters to quote then spoke to Ralph. He refused to have money taken from his bond. He was short and sharp with Lauren. Then he rang me. His charm was threaded with ice. "Lauren tells me the Landlord wants me to have the place painted. I'm not doing it," His voice was firm, "The walls needed painting when I moved in. I've got the condition report and I've checked it. 'Some wear marks' is written for all the paint work. What you really meant was 'many marks on the walls '. I've been there for three years and there is no way I'm paying to have the place painted because there's a dark shadow near the ceiling that could be mould.' His voice takes on an incredulous note, 'What  nonsense! It's perfectly reasonable to expect more wear marks after three years. I could have told him it needed painting when I moved in but I didn't really care at the time"
How do I proceed with this? He's my friend.   After a pause I say,' Lauren is only following the Landlord's instructions. That's what he has asked us to do."  I want to say, 'You are right to be angry,' but I don't. I represent the landlord however much I disagree with him.
"You or Lauren can tell this landlord I want my full bond refunded. If he's not happy with that he can take me to VCAT." Ralph rings off. No friendly chat.
Experience tells me that VCAT will not judge in The Rev's favour. They believe that after five years or so the owners should expect to re-paint or re-carpet.
Lauren rings The Rev to say she will get the quote but Ralph is refusing to pay and did he want us to follow through and book a hearing at VCAT?
"Ring him again," says The Rev, "He'll be bluffing."
Ralph rings me again to make himself crystal clear. He will attend any hearing at VCAT that is demanding money from his bond and he will fight it. He can't believe that we are doing this to him after he has been such a good tenant. As he said 'you doing it' I was sure he meant me not we but I don't have an answer. He went on.
"Three years, I've been there and no problems for you or your landlord. He's been lucky. There's a lot I could've complained about. So what's his problem? Tell him to get a life." And he's gone. I've never heard Ralph like this.
I could have told him 'greed' was the problem. Greed can hide around corners and in crevasses and I meet it often as it creeps out and gets in the way of common sense.
I picture Ralph with his charm and friendly smile winning the VCAT member over and having us tossed out with the suggestion we're wasting everyone's time. The Rev may try to harness some charm from God but God's charm, after it has come through the medium of The Rev, won't be a match for Ralph's.
Lauren, after several stressful phone calls, was able to persuade The Rev not to continue with his demands for a paint job. Finding out he would be up for a fee for someone from our office to attend the VCAT hearing and learning he may not get anything from the bond for the paint job made him less keen to go ahead.
Lauren report the call to me, 'He's not going to pay to have it painted himself. We're not to bother with the quote. He's decided it doesn't look too bad. He also said, and Lauren who is a good mimic puts on of pompous voice that exactly captures The Rev, 'The new tenant won't notice. It's a guy isn't? There you go. Guys don't notice that sort of thing". I wondered if he was referring to himself and I think again that mentioning mould was a mistake.
I'm glad the new tenant will be Lauren's problem. I've been cheated out of a friendship. I can't bring myself to ring Ralph to explain or apologize or just to say 'Hello. How's it going?' I think I'm ashamed.  I haven't seem Ralph again.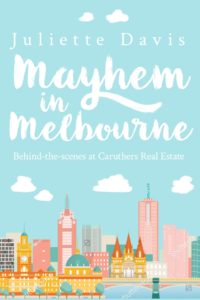 More of the high and lows at Caruthers Real Estate can be found in my book Mayhem in Melbourne.