UooUoo is a new word for me and these beautiful UooUoo animals are new to me too – it is pronounced You You.

This is a chance for me to introduce you to a new word and of course a new animal.  It is always fun to find a new word. Not that I think I will find many uses for ooUooU
Remember the Pushmi-Pullyu  ( pronounced  push-me-pull-you) from  the Dr Doolittle books by Hugh Lofting.  I always loved that word and as a child walked around reciting it but like ooUooU it was hard to find places to use it.

There are one hundred of these fun sculptures scattered throughout laneways, streets, parks, beaches and public spaces across Melbourne and Geelong.
Designed and created by Alexander Knox a UooUoo is an imaginary Australian creature.  It is the shape of a loosely drawn combination of a wombat and a dugong.  The base colour is white and the beautiful designs and patters have been produced by various Australian artists.
I love the way Melbourne can bring colour and joy and FUN into our lives.
ooUooUs have been produced to celebrate the 150th year of the Royal Children's Hospital.
A few years ago the City had beautifully painted pianos scattered about for anyone to play see here. Like the ooUooU it was an event to lift our spirits.
I found these three ooUooUs around Prahran and South Yarra.  I believe there are a couple in the Bourke Street Mall and along the St Kilda/Port Melbourne foreshore. I haven't seen those ones yet but I plan to check them out.  It is fun trying to spot one.
One hundred UooUoos will be dotted around. This is their official web site.
REMEMBER –
If you would like a copy of my book 'Mayhem in Melbourne – Behind the Scenes at Caruthers Real Estate –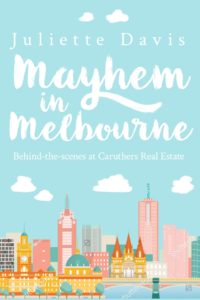 I still have a couple of my giveaways left. Please email me on davisjuliettej@gmail.com. Let me have your address and I'll mail a copy to you.
Talk to you soon
Juliette