The lockdown door has opened a crack with more light coming through on November 1st. 
With this new life seeping towards us we have another Melbourne spring-style day. Cold wind and now in the late afternoon the sun is out and the wind lessened.
To Celebrate I have poured a gin and tonic in one of the beautiful glasses I inherited from my mum.  The gin turned up when I was cleaning out a cupboard.  Not much left which is perhaps why I forgot about it but enough to celebrate.  The crystal is sparkling in the sun and the slice of lemon (home grow) floating in it is a clear yellow. If there was enough of it I could drink gin all night.

I have two lunch dates for the week of the 1st of November.  I talk to these people on a regular basis but they are outside my 5 kms zone, now extended to 25 kilometres. It is ridiculous how exciting that feels. I'm like a teenager looking forward to a date with a special guy.
As I wait for life to begin again I have thought of more good things about lockdown.
Reading
I read some of my grandmother's favourites that come from my mother's book case.
*Little Women by Louisa May Alcott. Recently this has been a T V series so good to read the original.
*Books by L M Montgomery,   Anne of Green Gables, Anne of the Islands and  Rilla of Ingleside. Rilla is one of Anne's daughters and this book is full of vivid descriptions of the lives of the women who live in a small Canadian village during the First World War.
*I read some Georgette Heyer, too that I found at the back of a book shelf.  If you want to read her try These Old Shades – great fun. She writes amazing dialogue. It makes the story vibrate. When you read her think about the dialogue and how she captures you with it.
Then there is music
The whole of the Internet is there to explore  –
*Try folk singer Mary Gauthier.  I found her recently. She lives in Nashville- just the right place for her music.
Weirdly, I have a sense of achievement – I stuck to the rules, everyone one I know stuck to the rules and we have beaten this virus. Or am I speaking too soon? Optimism is in the air but perhaps the virus is lurking behind a door waiting for a chance to appear again.  We still must follow the rules.

*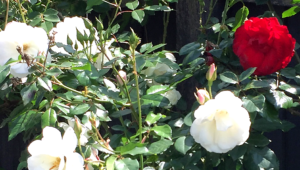 This is a year of roses in Melbourne. Literally.  My street is full of them and my side fence is covered Red and White blooms.  I wonder if it the lack of petrol fumes that they like. Our streets have been quiet. Another benefit from the lock down.