A piece for my Love Writings folder.
Recently I have been mulling over why I give house room to clothes that belonged to loved ones that have now passed – that is other people's clothes.  The lockdown has prompted this.
***
During COVID-Time my attention has been drawn to all the things that I've collected.  Since I've been home so much this hoarding has started to feel like a weight; a weight that is taking over the house.  Or, it could be that the house is crowding in on me.   I decided to check out the problem and go through some of what I have accumulated.  This is considerably less than I had before I moved from NZ about fifteen years.  I have managed one cull in my adult life. I felt I could manage another.
I'm sentimental and this makes me a hoarder of things that trigger memories. As I started, my memory clicked into action and I made little headway.
First up was a browny-yellow cardigan my father wore during the last year of his life.  It was knitted in an Arran pattern by my mother who had had detailed instructions on what pockets were needed.  The southern part of New Zealand is cold in the winter and my father spent most of his last winter parked in 'his' chair with the newspaper and cuddled into this cardigan.  He did the cross word and kept yelling out the clues when he struggled in the hope that one of us would know the answer.  When he shuffled around the garden with my mother, the gardener in the family, discussing what should be done to maintain it, he wore the cardigan.  He used it as a dressing gown when he got up in the morning to make the toast and tea.  It was part of him.
I rescued it when I saw it heading for an op shop.  When I look at it now I see him in his worn chair hitting the paper to get it folded the way he liked it while he snuggled into this garment.  I've worn the cardigan on occasions but I find it rather bulky. I folded it and replaced it in the drawer. This bulk takes up about half the space in one of my drawers.
I also give house-room a stylish fawn trench coat which belonged to one of my most loved friends. It's rather big for me but as I pull the belt tight I feel close to her.   She died a few years ago leaving a large gap in my life.  Through a series of circumstances I have ended up with her beautiful coat.  It is a coat she loved. I never saw her in it but I have a long email – a letter really – from her describing, in evocative detail, herself wearing in Paris just after she bought it and how she felt part of the crowd on the Champs Elysees.  She loved herself in and kept her mouth shut so her French wouldn't give her away. She was a Parisienne when she strode out in it.  Presumably it was raining when she first wore it.  She doesn't mention the rain but she may have worn it rain or shine. When I saw the coat after she died I found it was an English Burberry with a zip in lining. I imagine it did blend rather well with the stylish Paris fashions.  I wore it last winter and walked, in the rain, along Nelson Street to Carlisle Street where I worked, I felt her glamour and believed I was swinging along a Parisian Street. I even felt her prescience … for just a moment.
These garments and another that belonged to my mother trigger visual memories. I would remember these people I loved without their clothes but I like to put my hand on the garments they loved and picture them living in them. There will never be a right time for me to cull them– that will be someone else's job.
***
My house is being brightened with this beautiful pink and white cyclamen. It's flourishing living with me with me.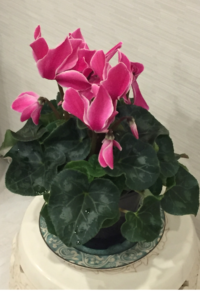 Cyclamen